About Faeryfire Kittens & Cats
We love cats
Welcome to Faeryfire Orientals! We show and raise Oriental Shorthair cats. Cats have been part of our lives for years. Our kittens play underfoot and sleep with us. They are family.
Why Oriental Shorthairs? Years ago, we adopted a Siamese kitten. We named him Malachi. He went everywhere with us. Malachi was intelligent, outgoing, and affectionate. He became the first Siamese in a long line of Siamese cats. Our introduction to the Oriental Shorthairs came when we adopted Ajax a silver tabby. Orientals have all the grace and intelligence of the Siamese. Plus, they come in over 400 color and pattern combinations. They are Siamese in designer pajamas. Just like Siamese cats, they crave affection and give so much back. Beautiful, loving, and intelligent, what more could we ask for?
Our cats are purebred, prize-winning Oriental Shorthairs. They are registered in CFA and TICA. We are a small cattery and have 1 to 2 litters per year. We breed for temperament and health.
All of our breeding cats are tested for genetic disorders. Faeryfire Orientals is a FIV/FeLV negative cattery. Each kitten is throughly examined by a licensed veterinarian and a blood panel is run. Kittens come with a health guarantee against congenital disorders. They are neutered/spayed, vaccinated, wormed, and microchipped. We are available to all Faeryfire Oriental parents for questions regarding kitten and cat care. Those early weeks with their mother are important for Oriental Shorthair kittens. So they get the best start in life, kittens stay with us until they are at least 4 months old.
LA IW BW SGC Faeryfire's Chasing Rainbows "Fiona"
Adopting a kitten is a big decision. It is a joy to bring a kitten into your home. Kittens are energetic, inquisitive, and playful. They are just learning about the world and like any toddler they can get into trouble. They need a safe and loving environment to grow in.
Every kitten is precious to us. For our kittens and cats safety and well-being, we do not ship.
Charissa & Barry Ebersole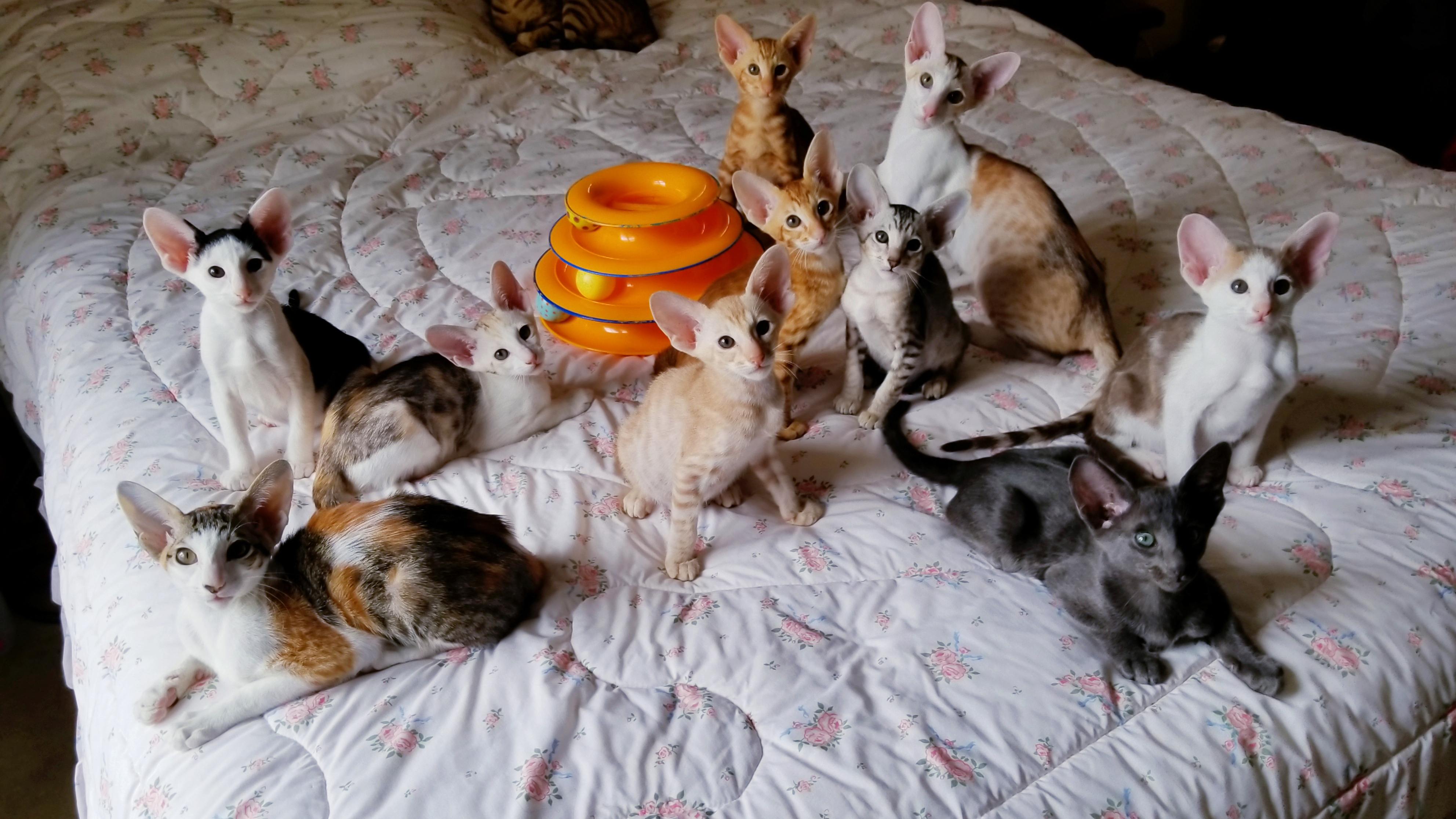 Our Cats
Here are some of our beautiful and loving cats and kittens.
Click on the images to make them bigger